As the plane landed in the late evening, my phone lit up with text messages. Johnathon and I had been in Sweden for nine days, including four incredible days on retreat with the Transformational Presence Global Program Leaders on the island of Utö in the Stockholm archipelago. On the plane, we had just been talking about how much we were looking forward to picking up our two senior-citizen dachshunds from the veterinary kennel the next morning. However, within minutes it became clear that all was not well. Toby had taken a downward turn that day. For more than a year, we had been in a dance with him of holding close and setting free. This was not going to be the homecoming we had hoped for.
When we arrived at the kennel the next morning, Toby was alert and putting up a good front. For a few moments, we could drink in the love and doggie kisses from our boys. Yet we were then faced with the reality that Toby's back legs were no longer working. We chose to take him home where he would feel safe and secure, and where we could hold them both in our arms, be with what was happening, and sense the right next steps. Within hours, it was apparent that Toby's system was shutting down.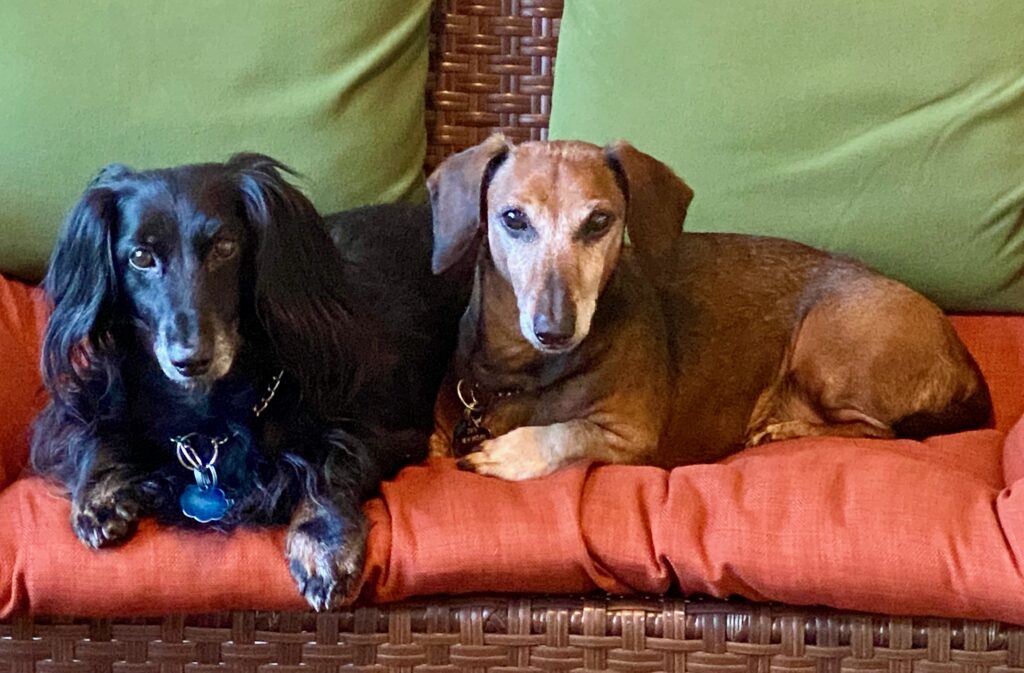 For such a little guy, Toby's presence was enormous. He was a big dog in a little body. He was fiercely protective, especially of me, yet he was also the most affectionate and loving dog I've ever known. The bond between he and I was incredibly strong.
For more than a year, we had sensed that Toby was starting to say goodbye to this life. His life-force was strong and resilient, so at first, his decline was gradual. He was tenacious in his refusal to let go. Yet more recently, negotiating daily activities was becoming more challenging.
Day by day, we held him close in our hearts while also setting his spirit free. Knowing that our final goodbye was coming, we began asking him to give us a clear sign when he was ready to go. Now he was giving us the sign.
So, after a tender night of snuggling close, we visited the veterinarian again the next morning. Toby slipped away gently and peacefully surrounded by his brother Matty, Johnathon, and me.
Holding Close and Setting Free as a Way of Living
Holding close and setting free is not a common concept. Most people tend to think in terms of "holding on" or "letting go"—choosing one or the other. The idea of holding something or someone close and, at the same time, setting them free—two gestures becoming one—opens a new world of possibilities.
For me, holding close and setting free has become a beautiful and grace-filled way of living. I believe that the highest form of relationship—whether with a person, an animal, a circumstance, a belief, or an organization—is to hold them close in our hearts and, at the same time, set them free to grow and evolve in their own path.
All my dogs over the years have taught me about life, freedom, uninhibited presence, aging, and ultimately, death. Two of them have been particularly special, Toby being the second. The first was Brandon, a Rhodesian Ridgeback and Labrador Retriever mix.
My later years with Brandon prepared me for walking beside my parents in the last stages of their lives. Those were not easy journeys, yet they were the beginning of my learning about holding close and setting free. This last year with Toby deepened even further my understanding of the boundless capacities of the heart. If we are willing to stay present with what is happening, even when it's not easy, the rewards can be huge.
In the last year, just as I've been holding Toby close and setting him free, I've been practicing the same with Transformational Presence and with my work. I have been very intentional in stepping away from teaching and opening more space for mentoring, coaching, writing, and speaking. And I've been very transparent about my personal journey through this process.
Holding close and setting free has also helped me be present with the continuing breaking open of systems and structures in my country and in the world. Life keeps stretching me. Day by day, week by week, month by month, I get clearer about what is mine to do and what is not.
Opening Space for Grace
Last month I wrote about falling deeper into grace. When we intentionally choose to stay present with the multi-faceted realities of our times, we open a space for grace. When we are willing to hold people and places and situations and beliefs close in our hearts while, at the same time, set them free to evolve as a part of the constant unfolding of life, we open a space for grace. As this becomes our way of living, the living of our lives opens space for grace.
Holding close and setting free. It's a practice. Sometimes it comes easily, sometimes not. Be gentle with yourself and your circumstances. And stay with it.
What difference could holding close and setting free make for you?